For those who get excited.

Atmosphere, charm, an 18th-century courtyard and the impression of living in another time.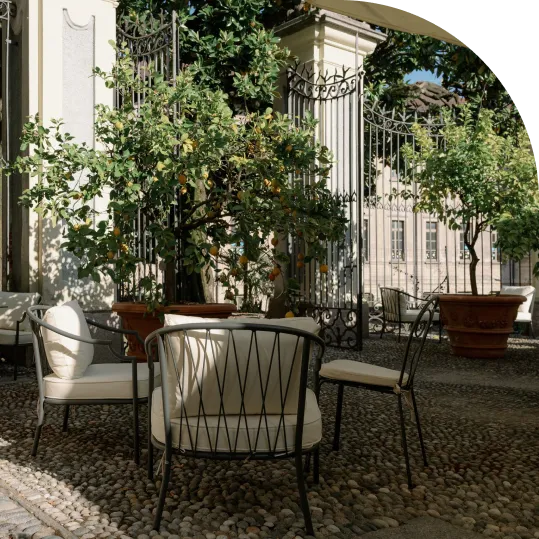 The perfect location for an aperitif with friends
The Garden Café is located in the courtyard of the ancient Palazzo Viani Dugnani, a prestigious venue where the Museo del Paesaggio has been displaying its art collections since 1914.
The perfect location for an aperitif with friends, thanks to its enchanting location and beauty surrounded by vases and scented lemons that create an artistic and evocative atmosphere.
Two large, centuries-old magnolia trees provide a small, private and romantic space from which you can catch a glimpse of the lake.
The Garden Café, in addition to its wide selection of cafeterias, cocktails and aperitifs, offers fresh and refined cuisine designed and created by Chef Massimiliano Celeste.

A stroll along Pallanza's lakefront, an aperitif in a wonderful courtyard, a visit to the Museum, and we are happy to offer you a complete gastronomic experience including dinner at the Rose Bistro Café.
Make every one of your events special at the Garden Cafe
The Garden Café, within the charming courtyard of the Landscape Museum, is a perfect location for celebrations and events with dedicated catering or banquets.
From corporate events to gala dinners, weddings and family celebrations in a private and elegant location, we create events tailored to meet your every need.
Let us take care of every detail so that you can enjoy your special moment and make it magical!